Exciting: Meeting with the Vice Chancellor
Vice Chancellor Briefing on behalf of the GJU.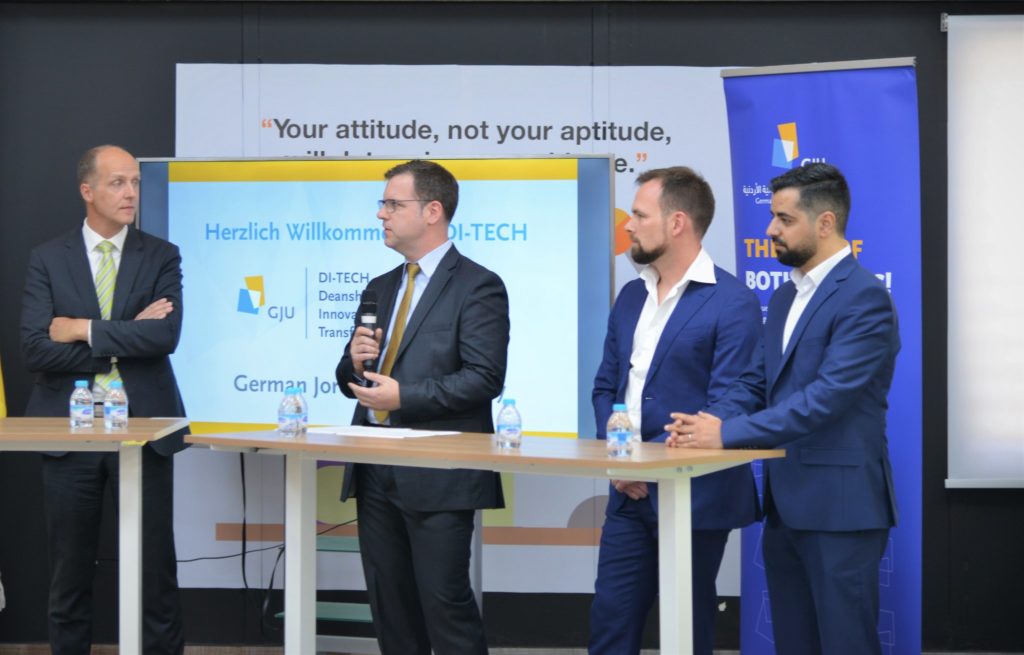 On 08 June 2022, we had the honor to meet the Vice Chancellor with a delegation at the campus of the German Jordan University (GJU).
Following a visit to the MENA Europe Future Energy Dialogue (MEFED) and at the invitation of King Abdullah II, the German Vice Chancellor and Federal Minister for Economic Affairs and Climate Protection, Robert Habeck, visited the German-Jordanian University (GJU) for discussions with faculty, university and industry partners, and especially students on the topics of green energy, entrepreneurship and employability in Jordan and Germany.
Visiting GJU's newly established Dean's Office for Innovation, Technology Transfer and Entrepreneurship(DI-TECH), Minister Habeck emphasized that his two-day stay in Jordan was not only focused on green energy, but also on education for entrepreneurship, innovation and employability. He described the GJU as a high point in the systematic bilateral cooperation between Jordan and Germany.
Oliver Gebert took the opportunity to give a short briefing on why Rockware believes that Jordan is a very good and future-proof offshoring location.
Rockware is pursuing two parallel approaches to counter the shortage of skilled workers: On the one hand, we are specifically bringing skilled workers to Germany; on the other hand, we are working on relocating entire teams to Jordan, because we are then in a position to create urgently needed jobs locally and ease the personnel situation in Germany.
The cover picture shows, from left to right:
Representative of Al-Hikma Management
Dr. Nidal Shwawreh, dean of DI-Tech
Bernhard Kampmann, German Ambassador to Jordan
Robert Habeck, Vice Chancellor and Federal Minister for Economic Affairs and Climate Protection
Prof. Ala'aldeen Al-Halhouli, President of the GJU
Prof. Dr. Robert Grebner, President of the University of Applied Sciences Würzburg-Schweinfurt
Oliver Gebert, CEO Rockware
Sebastian Stein, CEO Rockware
Sief Muffarrej, CEO Rockware Jordan